SAFE CAM 360
As a self-proclaimed security expert and paranoia enthusiast, I was on the hunt for the perfect security camera to protect my humble abode. After scouring the internet and conducting extensive research (read: watching a bunch of unboxing videos on YouTube), I finally settled on the Safe Cam 360.
Upon receiving the camera, I was immediately impressed by its sleek and modern design. It was like it was saying to me, "Don't worry, I'll keep an eye on everything while still loo chic and fashionable." And boy, was I sold.
Installation was a breeze, even for someone like me who struggles to put together Ikea furniture. Within minutes, the Safe Cam 360 was up and running, ready to protect my home from potential intruders and the occasional stray squirrel.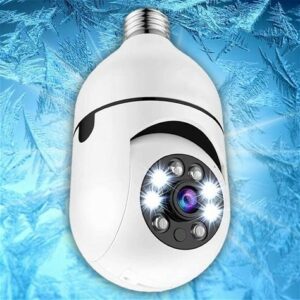 Now, on to the important stuff: the picture quality. Holy cow. It's like the camera has its own personal photographer following it around, snapping beautiful high-definition shots at every turn. The night vision feature is also top-notch, allowing me to see every nook and cranny of my home in crystal clear detail.
But perhaps the best feature of the Safe Cam 360 is its ability to be accessed from my phone. I can check in on my home anytime, anywhere, and even get alerts whenever motion is detected. It's like having my own personal security team at the tip of my fingertips.
All in all, the Safe Cam 360 has exceeded my expectations and then some. It's the perfect blend of style and functionality, and I highly recommend it to anyone in need of a reliable and high-quality home security solution. Plus, it's just plain fun to watch the live feed and see what my cats are up to when I'm not home. So, if you're looking to secure your home and get your daily dose of entertainment, the Safe Cam 360 is the way to go.