This is the high-end Galaxy Watch4 Classic which features a stainless steel design, and a rotating bezel which comes with a much better software experience and more third-party apps than the previous Samsung watch 3 series.  You can get a lesser experience for about $100 less if you go with the standard Watch4 model.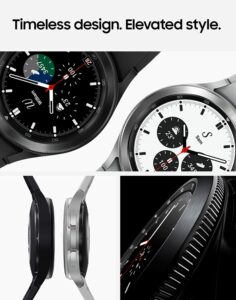 We opted to test the Galaxy Watch 4 Classic in its high end representation.
The primary reason you would choose the GW4 Classic watch over the non-Classic version is it comes with a rotating physical bezel.  This you can use to scroll smoothly through various, and very useful menus, to navigate the watch; the standard-issue Watch 4 has a haptic (simulated bezel) version of the physical bezel feature which reportedly does not work nearly as well.
The Galaxy Watch 4 and Watch 4 Classic introduce a new version of Wear OS, which is Google's smartwatch operating system.  It turns out Samsung had a hand in designing it. The results of all of this collaboration between the two tech behemoths is you're getting access to the Play Store, and to both Google's and Samsung's fitness apps.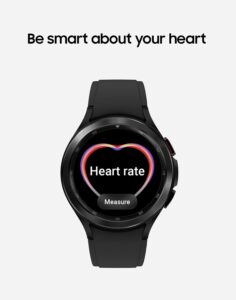 We found that, though not a perfect watch, it held up admirably in battery life, needing only to be recharged every other day with moderate feature usage. However if you plan to use the sleep tracking, GPS, and Auto workout recognition features of the watch, you will have to recharge it daily. It considerably outclasses in functionality when compared with the earlier GW3 series and most especially compared to the now dated Fitbit Surge which does still manage a much better battery life,  although which much less functionality and feature depth.   The design might be considered by some to be big and bulky, but it fit snugly on our wrists.