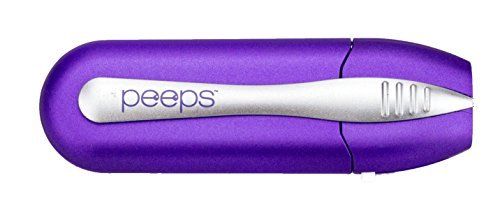 Designed specifically for cleaning eyeglasses, sunglasses, and reading glasses, Peeps uses a unique invisible carbon cleaning compound to safely and easily clean your glasses from oily fingerprint smudges to dust and facial oils. 25% Carbon diminishes static on the lens surface, reducing the attraction of airborne dust and tiny fibers.
The carbon is restored every time the tongs are returned to the storage case, making this cleaner effective for 500 cleanings! The revolutionary dry cleaning system has no liquids that will spill or expire, and no harsh alcohols or chemicals that can break down the coatings on your lenses. You also don't need to worry about carrying and disposing of any wipes. Peeps all-in-one lens cleaning tool provides the safest and most tested lens cleaning technology in the world. In fact, our technology is literally out of this world- Peeps is the only lens cleaner on the Space Station used by NASA! The compact size allows for easy storage in your purse, bag, or even your pocket. It's super portable so you can take it with you for super clean lenses anywhere.
Peeps are so easy to use that there are only two steps to get crystal clear lenses:
1. Use the retractable brush to remove dust and other potentially scratchy particles. Retract brush.
2. Slide arms out of cap and place lens between them. Squeeze gently on either side to close microfiber on the lens and move to cover the entire surface.